Get the WDK-ERA-KIT Premium Long Range Warehouse Doorbell with Loud Sound - It's Guaranteed to Work!
$149.99
Our popular Warehouse Kit includes your choice of a 12VDC accessory to increase the listening range. The 12V DC accessories featured in this kit have sound levels from 90dba to 115dba. These accessories work by connecting to the 12V DC outputs located on the receiver.
This is a terrific product when you have a larger area or an especially loud workshop. Add more receivers to this kit so that offices within the workspace can have chime sounds (with volume control) while using the loud accessories in the workshop.
Low Flat Rate Domestic Shipping!
Expedited & International Shipping (for most products)
Safe & Secure Checkout
30-Day Satisfaction Guaranteed
Call or Email for Support
Finally, a Long Range Warehouse Chime with Loud Sound Designed for Large Warehouses & Business Spaces
Before the WDK-ERA-KIT, when you wanted a Long-Range Warehouse Chime with Loud Sound, it wasn't easy to find them.  There were only a couple of options.  One is to wire a doorbell system or two, a wireless system.  You might have to count wired systems out because oftentimes, getting a wired doorbell push button outside is not feasible.  However, when you search for a quality wireless door chime, they simply don't have the range necessary to power through the obstacles seen in warehouses (concrete, metal, etc.).  That is until we created the WDK-ERA Series of Wireless Door Chimes.
If you would rather have a kit with a visual notification, please see our Warehouse Doorbell Kit with a Strobe Light.  This is a Long Range Warehouse Doorbell with a Loud Sound
These products were specifically created for industrial, warehouse, shop, and office environments.  The "bones" of this kit is the ERA-UTDCR Long Range Doorbell Kit.  This kit features a wireless push button that can send a wireless signal up to 4,000 ft. away to the plugin receiver featured in the kit.  By itself, the receiver is loud at approximately 85 decibels.  In addition to this, you can purchase additional receivers and spread them throughout your facility to help distribute the sound.  By itself, this is a great kit for businesses.
The WDK-ERA-KIT series of products are kits that feature the ERA-UTDCR and an additional bell (multiple choices available) that will increase the sound output to 90-115 decibels.  To hear each add-on sound, please scroll down the page.
Like other products in the ERA series of products you can add more push buttons, door window contacts, or plug in chime receivers to augment your system.
Each ERA-DCRX receiver has four zones and each zone features a live 12VDC output.  Zone 1, in this video, is paired with a long range wireless magnetic door contact that triggered when the door was opened.
The image below shows an example of how the strobe/siren (unit on the left) is wired to the ERA-DCRX receiver.  The cover over the receiver (unit on right) is removed to show the wiring.  After installation, the cover should be snapped back onto the base unit.  In this example, the strobe is wired to the 12V DC output for zone one.  When this zone is triggered (by ERA-UTX, ERA-DSTX, or ERA-PIR) the chime will sound and the connect strobe/siren will trigger.
ERA-DCRX Long Range Receiver Features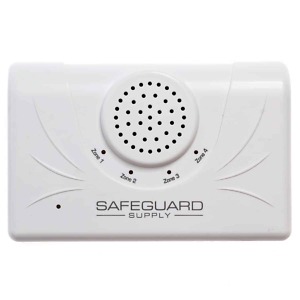 Plugs into standard wall outlet
Receiver has four different zones and each zone will play one of twelve available sounds.  This allows you to group transmitters into one of these zones so that you can distinguish between the front door and back door, for example
The receiver features 4 x 12V DC output and 1 x C-Form relays, one per zone to all integration into other devices*
Small led on receiver will flash when corresponding zone is triggered
Range from a transmitter to the receiver is 4,000 ft. line of sight.  Please note, in an environment like a warehouse, concrete, metal, etc. will diminish the signal
One year manufacturer's warranty
Dimensions of receiver is 6'' x 3.5'' x 1.5''
ERA-UTX Push Button/Door Contact Features
May be used as a push button or door/window magnetic contact
Transmitter features 1 x N/C or N/O connection for integration purposes
Transmits a signal up to 4,000 ft. to receiver
Powered by included lithium battery
Outdoor rated, rugged ABS plastic cover
Mounting hardware included
LED indicator on button lights for 2-seconds when transmitting
One year manufacturer's warranty
Dimensions for push button is 3.38'' x 1.94'' x .81'', Dimensions for magnetic contact is 2'' x .56'' x .38'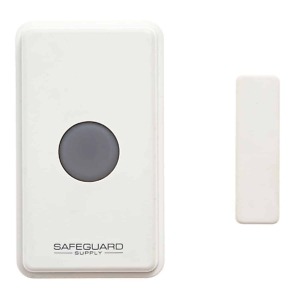 Types of Accessories (Fire Alarm Bells, Strobe, Sirens) you can wire to this kit: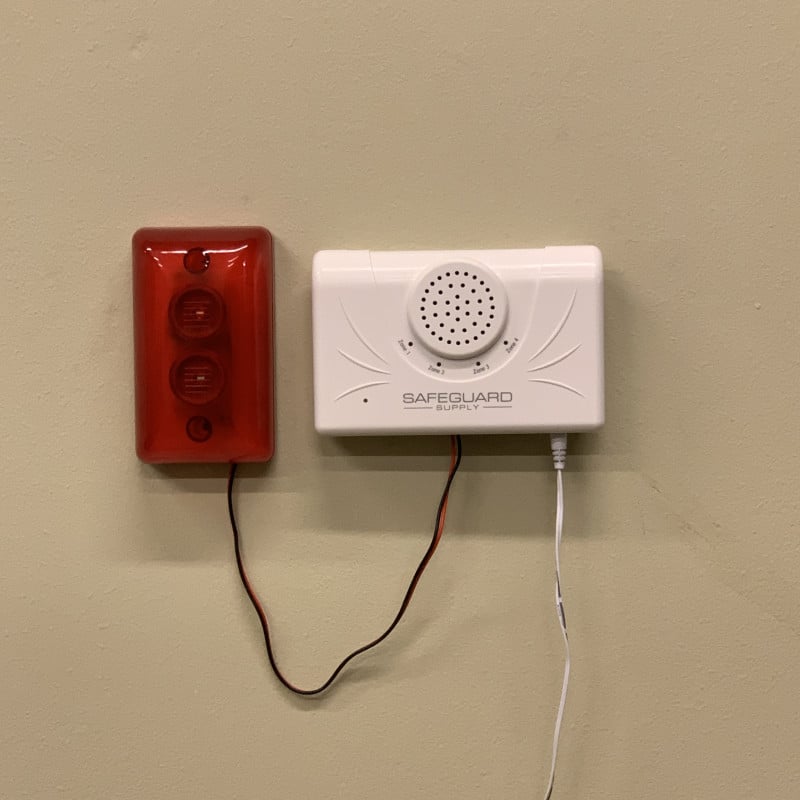 Each kit comes with a bundle of 15 feet, 2-lead 18AWG wire used to connect the bell or accessory below to the live 12v output on the receiver.  Learn more about each one of the bell accessories by clicking the link to the product.  Scroll down the page to see how to wire the unit.
The receiver in this kit has 4 zones to which you will pair a transmitter/sensor, with each zone playing a distinct sound. In this kit, you will also select an external accessory (FIREBELL, SIREN, CHROME BELL.MINI STROBE-SIREN) that you can add to a particular zone to increase the sound.  In addition you can select strobes or other external sound devices to add to other zones, using the 12V DC output.
please note.  These are the sounds the actual receiver plays.  They can be turned down or muted, or can play in conjunction with the add-on accessory chosen in the kit.
See and Hear the WDK-ERA-STROBESIREN Premium Long Range Warehouse Doorbell with Loud Sound
In the short video below, you can see an example of how the 12V accessory is wired to the ERA-DCRX receiver.  To note, this accessory has been discontinued but is replace with the Safeguard Supply, StrobeSiren, available in Red or Blue.
What makes this Premium Long Range Warehouse Doorbell with Loud Sound. loud?  The short video below is an example of an accessory hooked up the receiver.  Below the video are the other accessories you can connect with an example of the sound each accessory makes.
Available Accessories & Sounds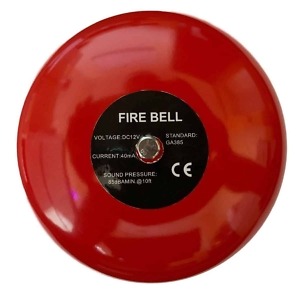 12V Fire Alarm Bell.  Sound is approximately 90 dBA. Click below to hear sound:
SS-SIRENSTROBE: Strobe/Sire Combo.  Bright, flashing strobe with very loud siren at 115 dBA.  Available in blue or red.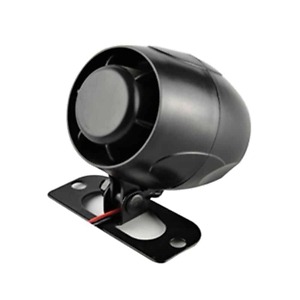 SS-SIREN is a loud, 115dbA 12V siren.  Great for loud areas.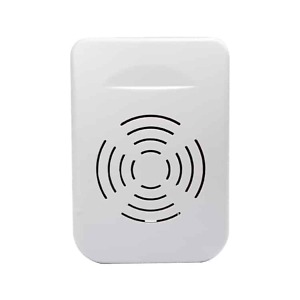 SS-PSIREN-W is a very loud piezo siren with a volume control knob.  There are two different sound options available for this product.
How do these accessories connect to the receiver?
On the back of the receiver are 4 x 12V DC outputs.  Using the supplied wire, you  connect the wire from the accessory to the back of the receiver.   When the sensor transmits a signal the receiver will play the associated chime sound and send a 12V DC current to the connected device.   For example, if you have the 12V DC Chrome Buzzer connected to the receiver, when someone at the front door pushes the button, the receiver plays a chime sound and the chrome bell will go off for the set duration (5 seconds up to 2 minutes).
Wiring the 12V Output (one per zone)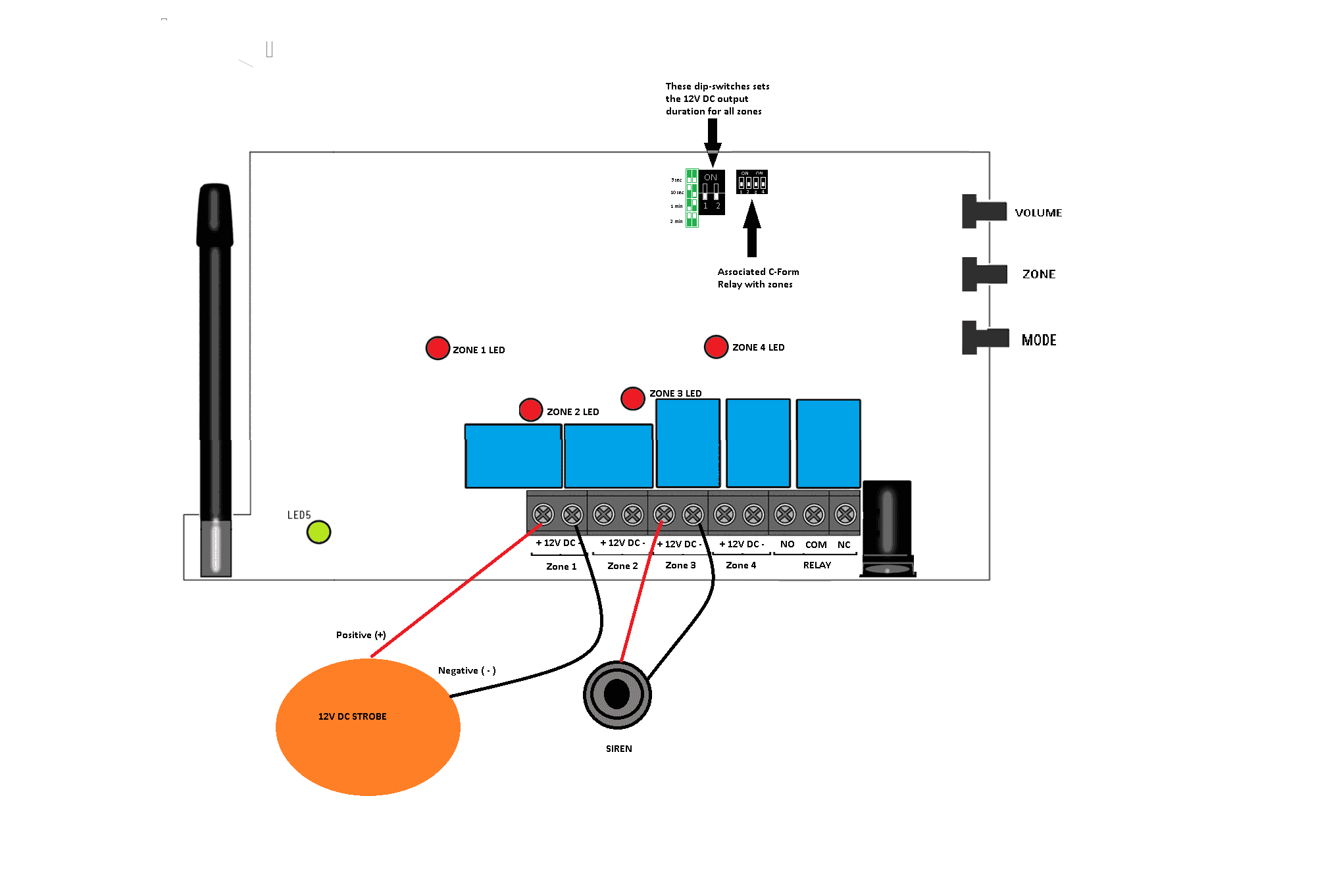 The receiver also features 1 x C-FORM relay.  The time setting for the relay will be the same as set for the 12V DC outputs.  The C-Form relay may be set to any combinations of zones.  Meaning, you can set the relay when zone 1 triggers, or any other combination of zones.  It is important to note that the C-FORM relay DOES NOT supply power.  Below is an example wiring scenario using the C-FORM relay.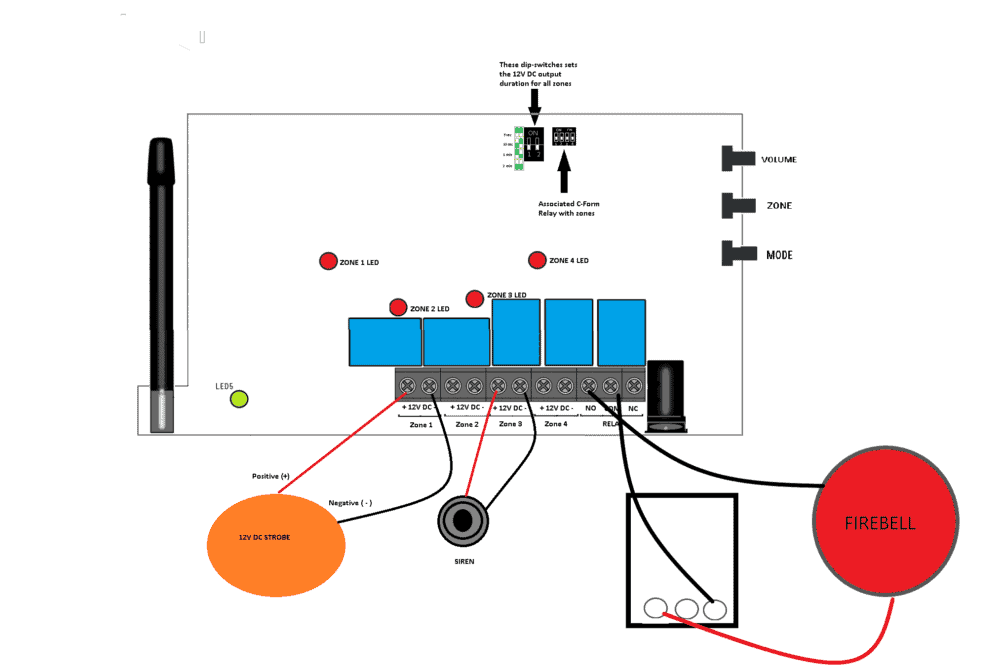 Available ERA-DCRX Receiver Sounds
Below are the sounds played by the ERA-DCRX receiver. These sounds can be played in conjunction with the loud accessory connected to the receiver or they can be muted.
Ding-Dong
Ding-Dong 2
Westminster Chime
Bird Chirping
Twinkle Twinkle
William Tell
Fur Elise
Siren
Coo-coo Clock
Cannon in D
Morning Mood
Toreador March
| | |
| --- | --- |
| Weight | 2.65 lbs |
| Dimensions | 12.875 × 6.25 × 4.25 in |
| Brand | Safeguard Supply |
| Wireless Features | C-Form Relays, Expandable, Flashing Strobe, Live 12V DC Output, Multi-Zone, Visual Indicator, Volume Control |
| Warranty | 1 Year |
| Alert Accessory | 12V Siren, 6-inch Electronic Firebell, Enclosed Chrome Buzzer, Mini Strobe Siren Blue, Mini Strobe Siren Red, Piezo Siren w/ Volume Control |
| Kit Or Accessory | Kit |
| Battery Or Plug In | Plug-in Receiver |
| | |
ERA-PRDCR Motion Alarm Kit Designed for Businesses & Warehouses
Good product
4500 sqf home with a single hard wired doorbell center of main floor. If on the 3 season porch or in the basement could never hear doorbell. After missing to "signature required" fedex deliveries while on the porch, I did some research and bought this product. Put one receiver on porch and one in basement. Now I can even hear the doorbell of out on the patio with a window open on the porch.
Works exactly as described
ERA-DSDCR 4,000 ft. Range Best Performing Driveway Alarm Great design. STRONG SIGNAL !
Using as a burglar alarm on back yard shed. Sends signal thru two shed walls, six foot cedar fence, brick exterior wall, four interior walls from 228 ft away. Easy to conceal transmitter using camo tape and a tiny homemade ghilli suit. Loud receiver alarm inside house. Can hear alarm outside house when set on high. This is my first purchase of 800Doorbell. So far so good. Versatile. Engineers thought out well. DIP switches offer excellent customization. Will buy more transmitters soon. Justa thought: It would be helpful to include a signal strength meter onto receiver.
Thank you very much and we're happy to know you like your product. We believe the ERA-DSDCR is one of the top driveway alarm offered!
Exactly as expected
This door announcer does exactly what you said it would do.
Easy setup and install.
Couldn't be happier
ERA-DCRX Wireless Warehouse Doorbell Receiver
I have to admit i was skeptical about this working through a metal building. I've always had problems with wireless and metal buildings!!! THIS WORKED THROUGH 2 WOOD WALLS AND A METAL WALL !!! My customers only complaint was the dc output timer wouldn't do less then 5 secounds.(maybe a dial so you could dial it to exactly what you want) 4.9 stars EXALENT wireless product as long as it lasts???
Great item!
Great item. I have one on each floor of our house and one out in my workshop/tractor shed
Great setup and easy to deploy
We ordered the base unit, motion sensor and optional doorbell for a hybrid office. We wanted to ensure that staff working alone in the office had the option to hear when people entered the space through the main door (to a common corridor). We also wanted the option to close and lock the door - and to leave a doorbell in the hallway - for delivery people and unscheduled visitors.
The kits was exactly as advertised, and promptly delivered (we are in Canada). The volume and sounds are easily adjusted, and turning the sensor away from the lobby (to face the wall) stops the chime when there are many people in the office.
The one quibble I had is that while the doorbell unit was provided with a battery, we had to buy a 9V battery for the main sensor.
While we have had the equipment installed for less than a month, I have no hesitation recommending it to others.
Works Perfect!
Love these alarms! They work great for our long driveway. Nice to know when someone is coming before they get to the house.
Great
The bell system works exactly as described. I couldn't be happier. The range is amazing and the bell is loud (flasher is bright). I tried many other wireless products before this one...none of them came close. The customer service is also fantastic...kind and patient and informed.