Sale!
ERA-UTPVR Portable Doorbell for Business & Warehouse Use
The ERA-VPRX vibrating portable receiver paired with the ERA-UTX push button/door contact creates a Portable Doorbell for a variety of business needs -  such as warehouses, retail stores, shops, restaurants, and more.  When a door is opened, or a visitor pushes the push button, users carrying the ERA-VPRX will instantly receive an alert (vibrating, melody, or both).  Use this receiver in conjunction with any of the ERA sensor/transmitters and also with the ERA-DCRX desktop receiver.
Low Flat Rate Domestic Shipping!
Expedited & International Shipping (for most products)
Safe & Secure Checkout
30-Day Satisfaction Guaranteed
Call or Email for Support
A Wireless Door Chime Kit with a Portable Doorbell - Handheld Battery Receiver
The ERA-UTPVR is a business-grade Portable Doorbell kit that ships with a portable, handheld receiver (ERA-VPRX) and an ERA-UTX transmitter (use a push-button or door contact).
This kit is a great solution for large businesses, warehouses, shops, or even home use when you need a receiver that moves around with you.  With a range of up to 4,000 ft., this handheld receiver allows you to roam freely throughout your facility and alert you when a visitor arrives. Use with portable receives and with the ERA-DCRX desktop receiver.
The receiver is powered by included rechargeable batteries with a standby time of approximately 7 days.  Simply recharge the unit with the included wall charger.
The transmitter works as a wireless push button or magnetic door entry alert contact.  When a visitor pushes the button, or the door opens (depending on how you configure it) the receiver immediately chimes with the selected melody for that particular push button.
This kit is expandable by adding additional transmitters,   such as a driveway PIR sensor, an indoor motion sensor, push buttons, and door contacts, as well as adding portable receivers and/or desktop receivers (ERA-DCRX).
Compatible Entry Sensor with the Portable Doorbell Receiver:
ERA-UTX - this is the sensor that ships in this kit. It functions as a business doorbell pushbutton and/or a door sensor that triggers when the door opens.
ERA-PIR - this is an indoor motion sensor alert that is triggered when motion & heat are detected. The invisible beam that tends to fan out. The sensor has a pivot bracket that allows you to adjust the monitored zone to suite your needs. This type of motion sensor works well for doors, hallways, or virtually an area you want to monitor.
ERA-DSTX - this is outdoor motion sensor that works great as a driveway alarm sensor. It shoot more of a straight, focuses beam.
If this a portable door bell isn't what you are looking for, please visit some of the other ERA lines of products by Safeguard Supply.
ERA-UTDCR - Wireless Door Chime kit designed for businesses with a push-button and/or entry alert transmitter.  The kit ships with an ERA-DCRX desktop receiver, but all products in the ERA line are cross-compatible.
WDK-ERA-STROBE - this kit features the ERA-UTDCR & is packaged with a bright strobe light designed to alert users in loud areas or large warehouses.
WDK-ERA-SIREN - kit featured with loud, 115 dB siren.
ERA-PRDCR - this kit features the same receiver as the kits mentioned above, but uses the ERA-PIR motion sensor.
ERA-VPRX Portable Long Range Portable Doorbell Receiver with Rechargeable Batteries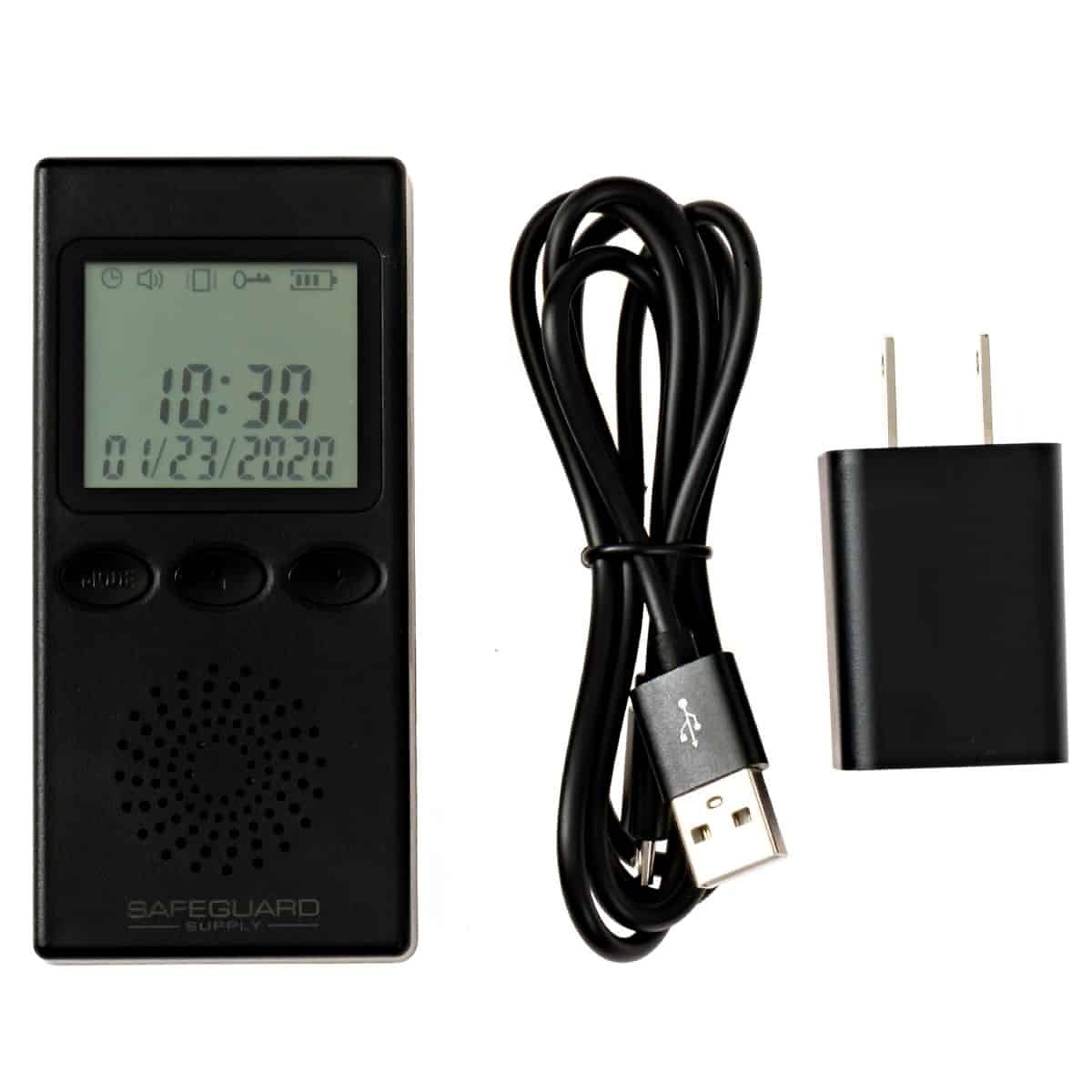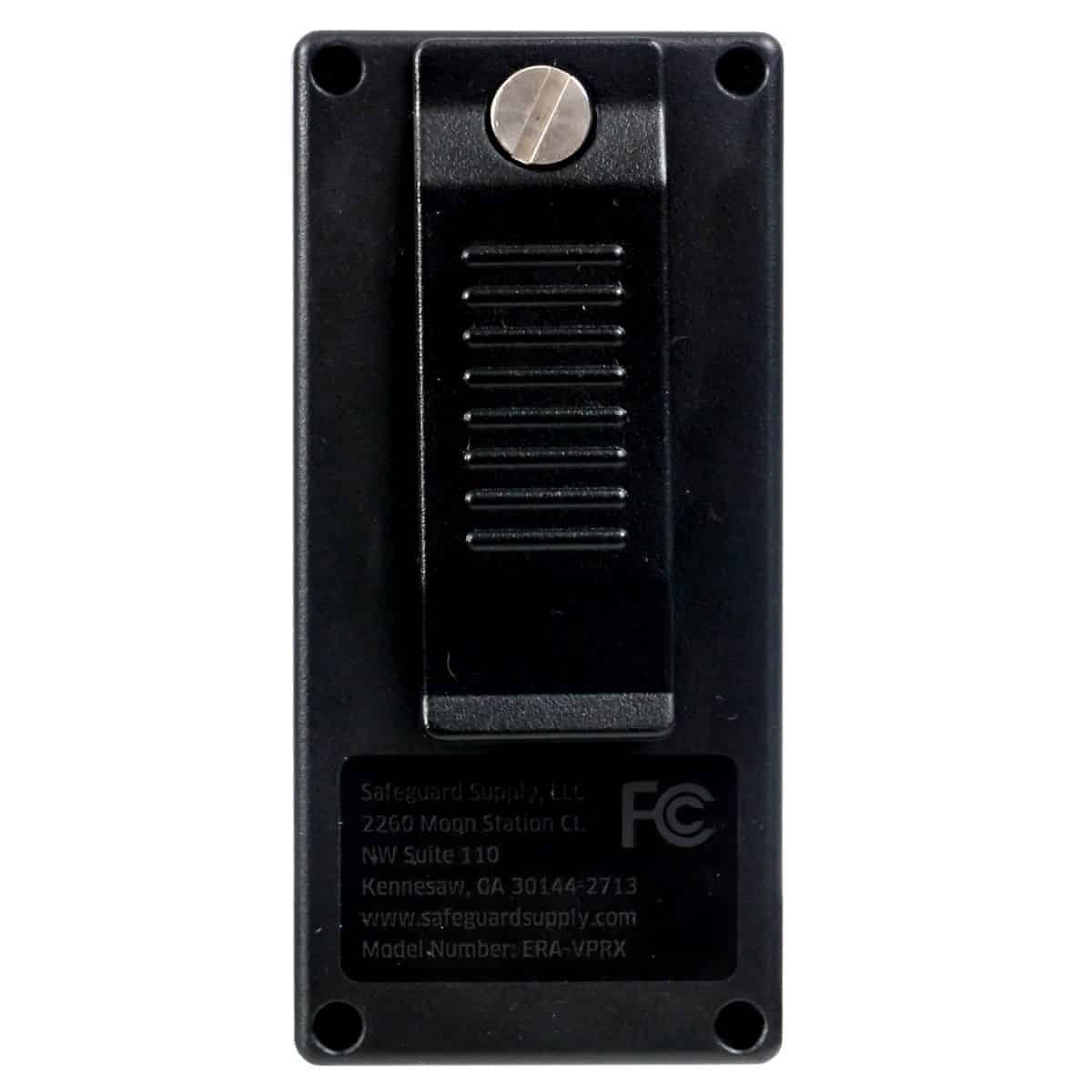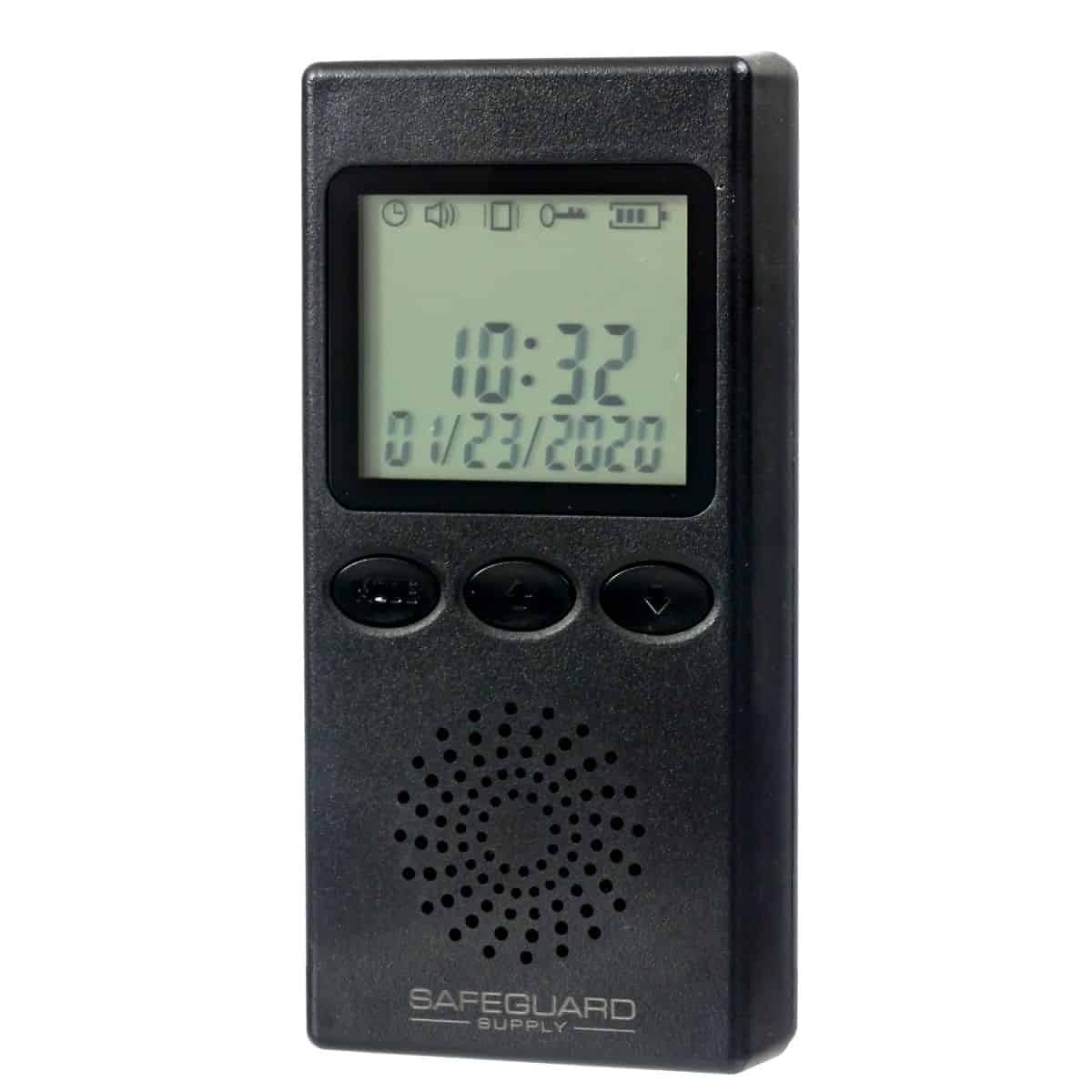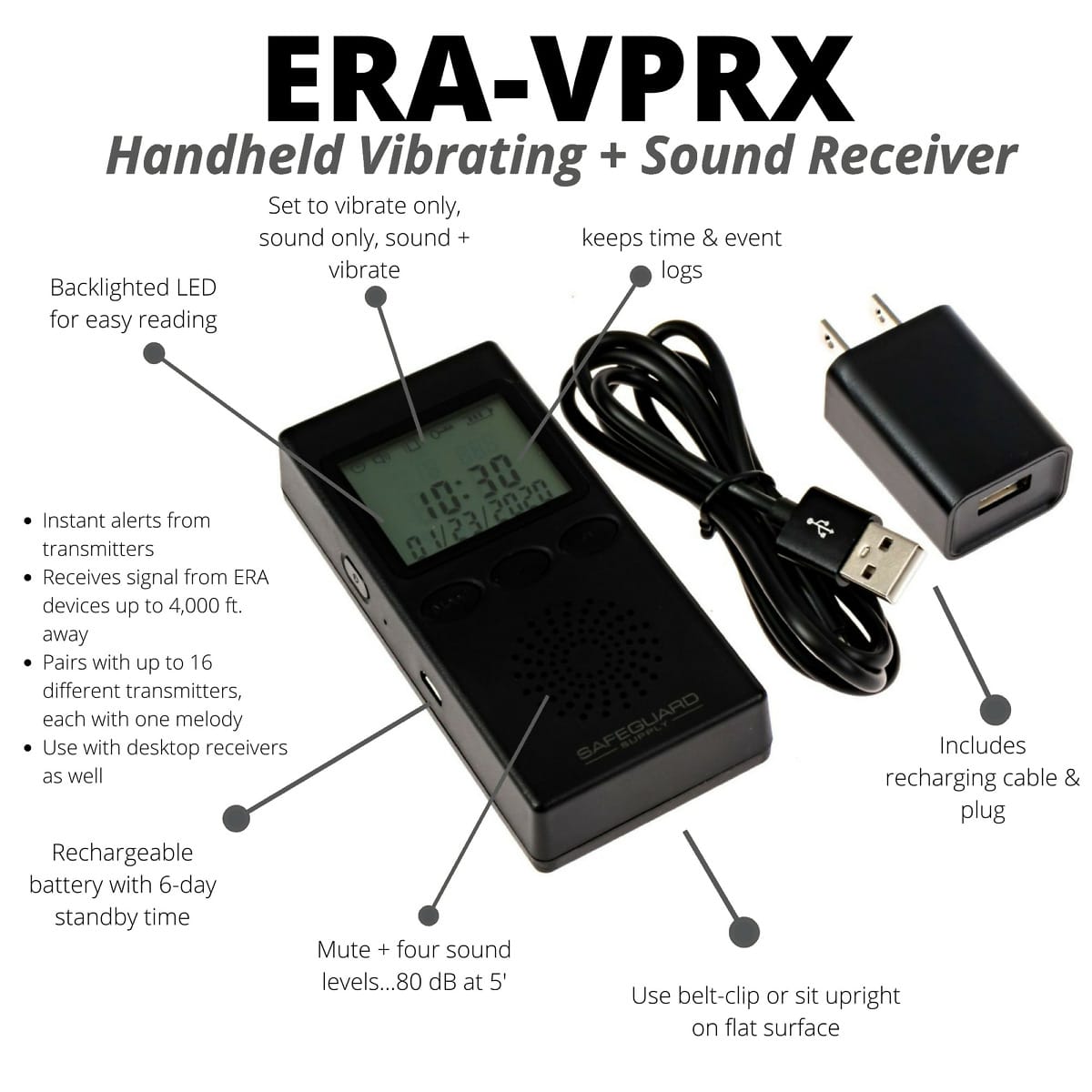 ERA-VPRX Portable Long Range Business Door Chime Receiver with Rechargeable Batteries
Vibrates and/or plays a melody when triggered by compatible transmitters/sensors
Extended range – up to 4,000 ft. from the sensor to compatible transmitters (ERA-UTX, ERA-DSTX, ERA-PIR)
Works with up to 16 different ERA transmitters/sensors, each may have a distinct melody programmed to it
Set to sound only, vibrate or sounds and vibrate modes
Adjustable volume; mute+ four sound levels
Keeps time & events log; events log may be reset
Power on/off button
Easily clips on pant or belt or sits upright on a flat surface
Powered by rechargeable Li-Ion battery (included) & includes recharging cable & brick
6-7 day battery standby time depending on usage
LED backlight lights when triggered
Operating frequency is 433 MHZ
Operational temperature from -30 F to 120F
Dimensions are 4.0" H x 1.5" W x 0.75" D
1-year manufacturer's warranty
Manufactured by Safeguard Supply
ERA-UTX Warehouse Push Button / Magnetic Door Contact Transmitter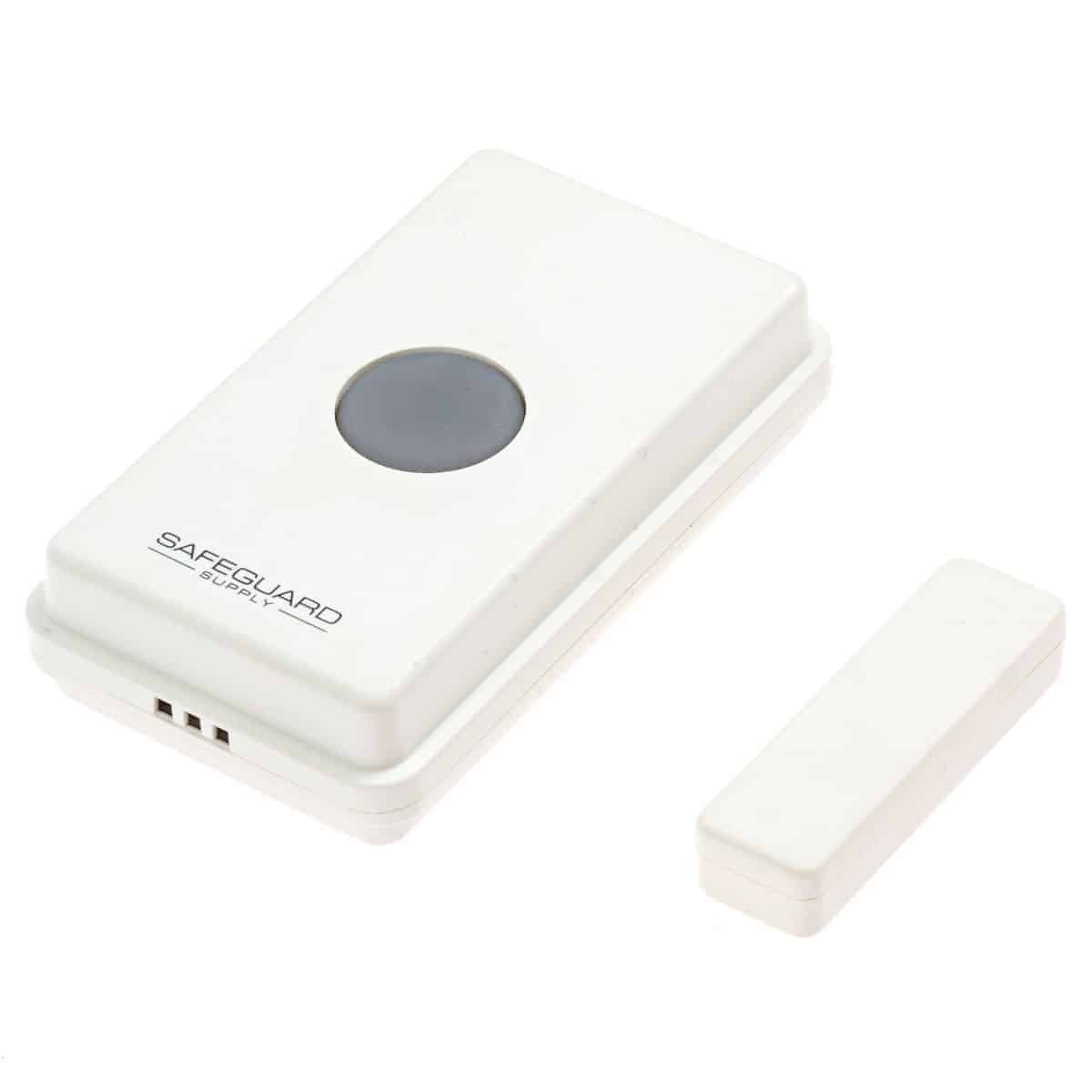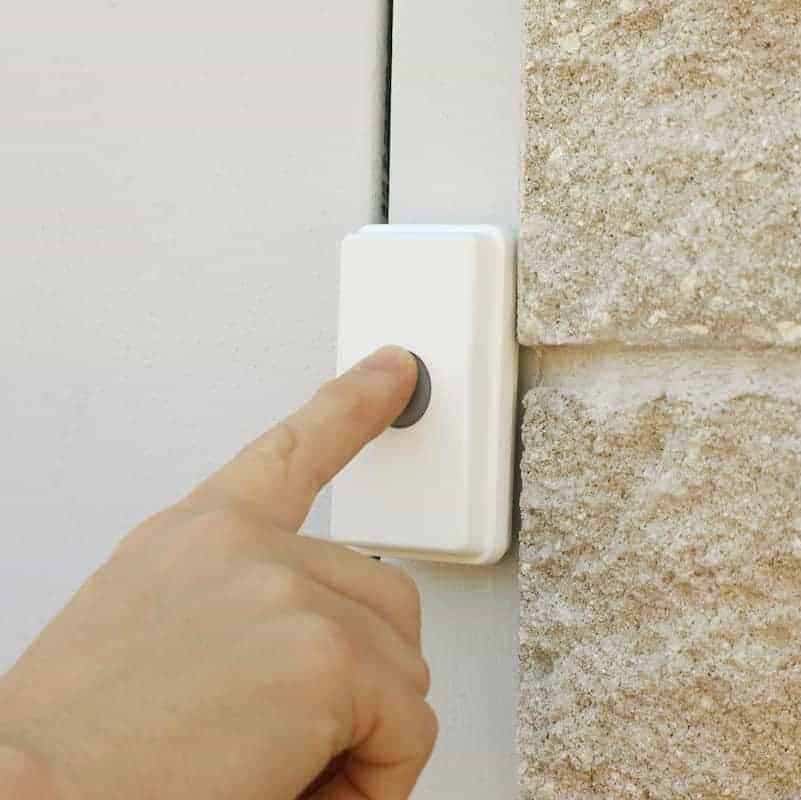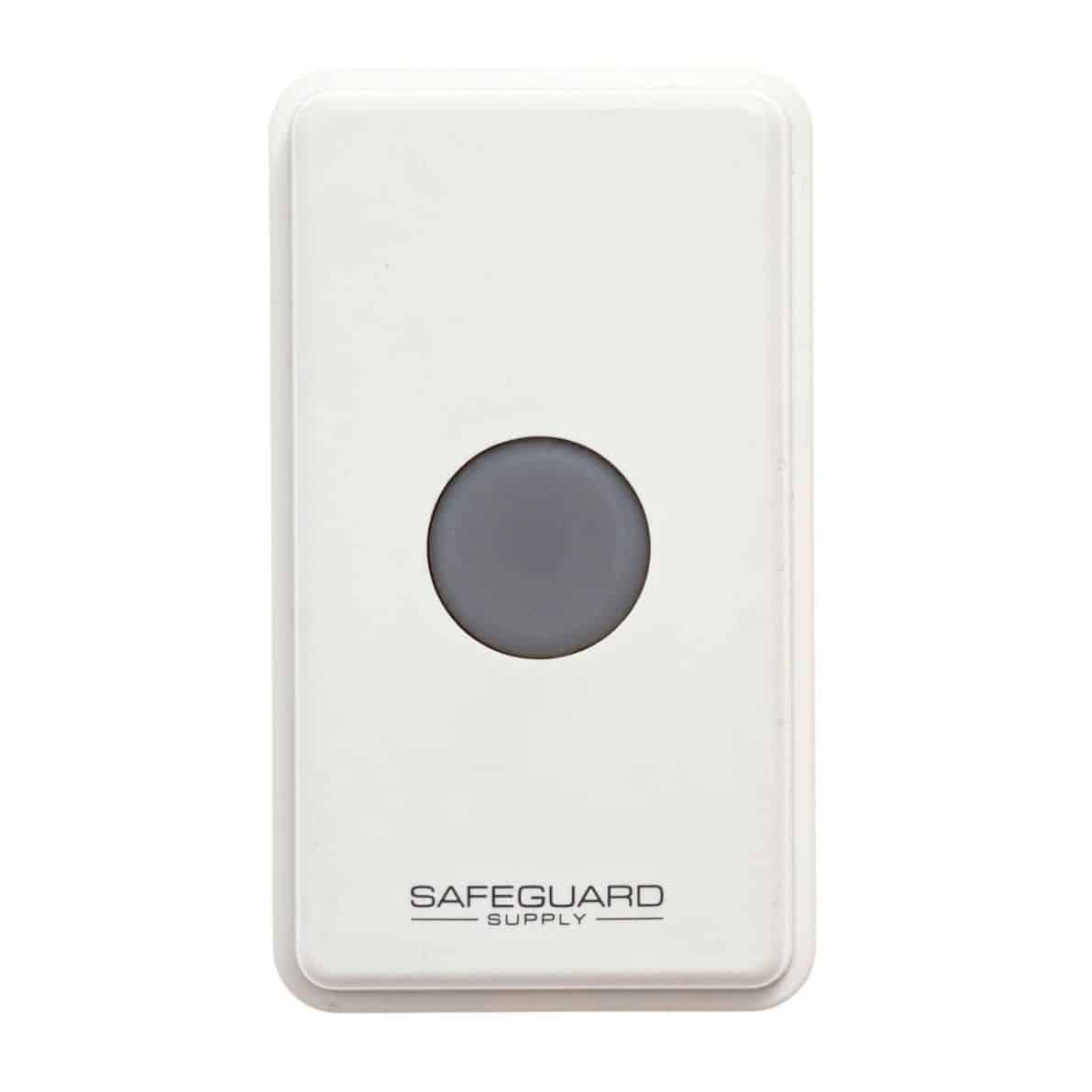 ERA-UTX Push Button/Door Contact Features
Outdoor rated w/ rubber gasket to prevent  moisture
Operational temperature from -30 F to 120F
Transmits signal up to 4,000 ft.
Powered by a 3V Lithium battery (CR-2)
May be used as a push-button or a door/window contact
Mounting hardware included
Contains N/O and N/C contacts for advanced integration
LED indicator lights for 2-seconds when triggered.  LED may be deactivated
Operating frequency is 433 MHZ
One year manufacturer's warranty
Manufactured by Safeguard Supply
*Dimensions for the push button are 3.38" x 1.94" x .81"
*Dimensions for magnetic contact is 2" x .56" x .38"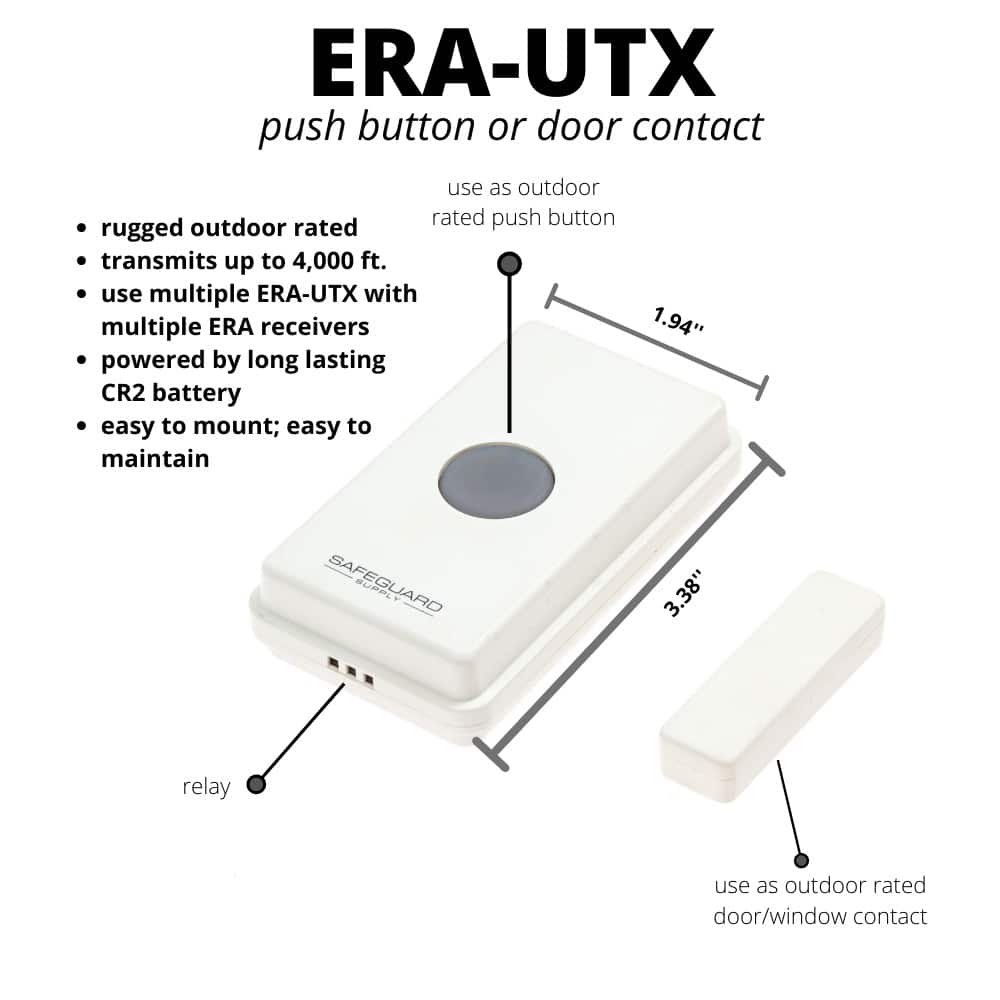 Click to Hear the ERA-VPRX Portable Warehouse Doorbell Sounds:
Ding-Dong
Ding-Dong 2
Westminster Chime
Bird Chirping
Twinkle Twinkle
William Tell
Fur Elise
Siren
Coo-coo Clock
Cannon in D
Morning Mood
Toreador March
| | |
| --- | --- |
| Weight | 1.2 lbs |
| Dimensions | 4 × 3 × 4 in |
| Brand | Safeguard Supply |
| Condition | New |
| Wireless Features | Expandable, Multi-Zone, Visual Indicator, Volume Control |
| Warranty | 1 Year |
| Wireless Range | 4000 ft. |
| Compatibility | Safeguard Supply - ERA Series |
| Battery Or Plug In | Battery Operated Receiver, Plug-in Receiver |
| Kit Or Accessory | Kit |
| | |
ERA-PRDCR Motion Alarm Kit Designed for Businesses & Warehouses
Good product
4500 sqf home with a single hard wired doorbell center of main floor. If on the 3 season porch or in the basement could never hear doorbell. After missing to "signature required" fedex deliveries while on the porch, I did some research and bought this product. Put one receiver on porch and one in basement. Now I can even hear the doorbell of out on the patio with a window open on the porch.
Works exactly as described
ERA-DSDCR 4,000 ft. Range Best Performing Driveway Alarm Great design. STRONG SIGNAL !
Using as a burglar alarm on back yard shed. Sends signal thru two shed walls, six foot cedar fence, brick exterior wall, four interior walls from 228 ft away. Easy to conceal transmitter using camo tape and a tiny homemade ghilli suit. Loud receiver alarm inside house. Can hear alarm outside house when set on high. This is my first purchase of 800Doorbell. So far so good. Versatile. Engineers thought out well. DIP switches offer excellent customization. Will buy more transmitters soon. Justa thought: It would be helpful to include a signal strength meter onto receiver.
Thank you very much and we're happy to know you like your product. We believe the ERA-DSDCR is one of the top driveway alarm offered!
Exactly as expected
This door announcer does exactly what you said it would do.
Easy setup and install.
Couldn't be happier
ERA-DCRX Wireless Warehouse Doorbell Receiver
I have to admit i was skeptical about this working through a metal building. I've always had problems with wireless and metal buildings!!! THIS WORKED THROUGH 2 WOOD WALLS AND A METAL WALL !!! My customers only complaint was the dc output timer wouldn't do less then 5 secounds.(maybe a dial so you could dial it to exactly what you want) 4.9 stars EXALENT wireless product as long as it lasts???
Great item!
Great item. I have one on each floor of our house and one out in my workshop/tractor shed
Great setup and easy to deploy
We ordered the base unit, motion sensor and optional doorbell for a hybrid office. We wanted to ensure that staff working alone in the office had the option to hear when people entered the space through the main door (to a common corridor). We also wanted the option to close and lock the door - and to leave a doorbell in the hallway - for delivery people and unscheduled visitors.
The kits was exactly as advertised, and promptly delivered (we are in Canada). The volume and sounds are easily adjusted, and turning the sensor away from the lobby (to face the wall) stops the chime when there are many people in the office.
The one quibble I had is that while the doorbell unit was provided with a battery, we had to buy a 9V battery for the main sensor.
While we have had the equipment installed for less than a month, I have no hesitation recommending it to others.
Works Perfect!
Love these alarms! They work great for our long driveway. Nice to know when someone is coming before they get to the house.
Great
The bell system works exactly as described. I couldn't be happier. The range is amazing and the bell is loud (flasher is bright). I tried many other wireless products before this one...none of them came close. The customer service is also fantastic...kind and patient and informed.