LRA-EX1000S Doorbell Extender that Helps Hear the Wired Doorbell In Your Home
$54.99
Can't hear the doorbell in certain parts of the house?  Missing visits or deliveries when you're in the basement or back bedroom?  A doorbell extender allows you to add wireless chimes throughout your home that chime when your regular doorbell rings.  Connect a tiny transmitter to your hard-wired doorbell, choose a chime from 18 selectable songs, and plugin as many chime receivers as you need.  A quick and simple setup has this genius product up and running in minutes.
Low Flat Rate Domestic Shipping!
Expedited & International Shipping (for most products)
Safe & Secure Checkout
30-Day Satisfaction Guaranteed
Call or Email for Support
Our customers have asked for a doorbell extender kit with flashing strobe, so we delivered.
The LRA-EX1000S Doorbell Extender with Plugin Receiver & Strobe Light
The LRA-EX1000S is a Plugin Chime Kit to Extend Wired Doorbell Sound Through Your Home.  Do you have trouble hearing the wired doorbell in your home? Do you have areas in your home where you can't hear your doorbells, such as the basement or an upstairs bedroom?  A doorbell extender will do the trick.
This doorbell extender kit features a wireless doorbell transmitter that easily wires into your existing wired doorbell and a plugin receiver.    Simply connect the transmitter to your wired doorbell (following the included instructions), plug in the flashing strobe receiver, pair the units together, and now you have effectively increased the sound of your current wired doorbell.  Now, when a visitor pushes the wired doorbell push button outside your home, your wired doorbell will work as normal.  Simultaneously, the wireless transmitter that was wired into the doorbell (located inside your home) will send a wireless radio signal to the plug-in receiver.  Depending on the operating mode the receiver is set to, it will flash the strobe, play a melody, or both.
The LRA-EX1000S doorbell extender kit ships with one plugin receiver, but it is easy to add receivers in other rooms.  The LRA-DCRXS is the plug-in receiver that ships with this kit and are available to purchase separately as an add-on unit to expand it to other rooms.  For example, you might plug in a receiver into your living room, and also purchase add-ons to put a receiver in the kitchen, upstairs bedroom, basement, garage, etc.    Not only is the LRA-DCRXS available, but there are also a series of other transmitters (motion sensor, door contacts, push buttons, etc.) and two other receivers like the LRA-DCRX Multi-Zone Receiver and the LRA-VPRX Portable Receiver that are all compatible with one another.
What does a doorbell extender do?
The transmitter included in this kit wires into the existing wired doorbell in your home.  It is compatible with wired chimes that play a "ding" or "ding-dong" sound and is NOT compatible with video doorbells and intercom systems.  The transmitter is easy to install using the included instructions.  The transmitter works with up to two doors.  For example, your existing wired doorbell may play "ding-dong" for the front door and "dong" for the back door.  The transmitter extender may be set up to play one melody when the front door button is pressed and a different melody when the back doorbell push button is pressed.  If your existing wired doorbell is only wired for the front door, that's okay as well.
Can't Hear Your Doorbell?  The LRA EX1000S Doorbell Extender Plugin Chime Kit to Extend Wired Doorbell Sound Through Your Home
These are long-range products that ensure they work in most environments.  Many people have negative experiences with wireless doorbell products, and that's because the wireless range (from transmitter to receivers) for products purchased at hardware stores, tends to be 150 ft. max.  These are a line of sight numbers and any building materials such as walls, doors, etc. will reduce the transmission range.  For example, a brick wall will reduce the wireless signal by 60%-70%, and each interior wall will reduce the signal by another 30%-40%.  Doing the math, you can easily see why our LRA products, with a 1,000 ft. range, have a dramatic improvement over a wireless product with a 150 ft. range.
Kit ships with 1 x LRA-DCRXS Plugin Chime Receiver & 1 x LRA-EXTX Doorbell Extender Transmitter.
There is no limit to the number of LRA series receivers (LRA-DCRXS, LRA-DCRX, LRA-VPRX) each transmitter may be paired with.  For example, the LRA-EXTX extender may be paired with 5 different plug-in receivers you have placed throughout your home.
The wireless range from the transmitter to the receiver is up to 1,000 ft. line-of-sight.  Environmental and building materials will reduce the wireless range.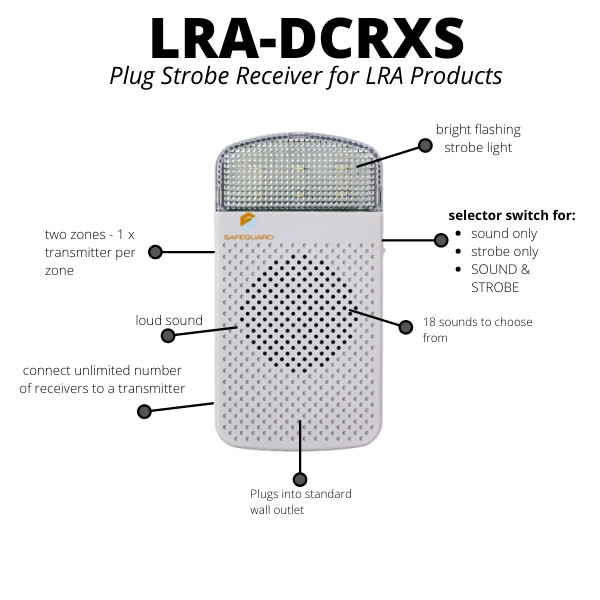 LRA-EXTX Features:
Transmitter dimensions: 2-1/4'' L x 2-1/4'' W x 1/2'' D (wires to connect to wired doorbell are approximately 9'' each).
Transmitter wires into existing wired doorbell (usually handing in foyer of home).
Only works with standard wired doorbells that play traditional ding-dong type sound.
Includes connections for front and back door.  One melody for front door and one melody for back door.
Powered by extremely long lasting lithium battery (CR123A) that should last for many, many years without changing.
Typically, the transmitter is mounted on wall slightly above wired doorbell cabinet.  In some cases, you may be able to hide transmitter inside doorbell cabinet.
Hear the LRA-DCRXS Plugin Receiver Sounds
Ding Dong
Door Knocking
Big Ben
Smooth Alert
Electric Flute
Simple Rhythm
Dog Barking
Zap Alert
Falling Water
Car Horn
Telephone Ringing
Office Phone Ringing
Rooster Crow
Police Siren
Fog Horn
Organ Chords
Oh Susanna
Coming Around the Mountain
| | |
| --- | --- |
| Weight | 1 lbs |
| Dimensions | 8 × 3.5 × 4 in |
| Brand | Safeguard Supply |
| Condition | New |
| Warranty | 1 Year |
| Wireless Features | Expandable, Flashing Strobe, Multi-Zone, Visual Indicator |
| Compatibility | Safeguard Supply - LRA Series |
| Wireless Range | 1000 ft. |
| Kit Or Accessory | Kit |
| | |
Doorbell Extender Thumbs Up
The wired doorbell extender works as described. Delivers sound and strobelight to areas where we otherwise could not hear the doorbell. We put this one in our lower level, will buy a second one for our screened in porch.
Great doorbell
Installed one for family member, had difficulty hearing the wired doorbell in the other room. With the extender in the primary living area, and the integral strobe light, it's the ideal alert when someone now comes to the door. 👍
This works!
We have a wired doorbell and did not want to convert it to wireless. The wireless unit that attached to our wired doorbell and two of the pug in wireless doorbells to extend the ring allow us now to never miss another doorbell call. Works great. Easy to install.
Ear
I am hear my doorbell thank you. Someone at your store helps us to install I. Than you
Doorbell Dilema
I was always missing the doorbell and actually thought that I was not working but people at the door said they could hear it through the front door. I ordered the product and 2 of the plug-in-chime receivers. Chose this product because of the range being much further than others I looked at. Hooked it up for the family room and the basement. It works like a charm. I love the options on the receivers for the different chimes as well as the light, sound or both. I intend to order 2 more receivers so I can receive in the stand a lone garage and another location.
Was set-up for rear door. Called in and was directed how to set-up for front door. Works great now. Great customer service. Thank you.
1800Doorbell
easy to install-works great! Thanks.
Super Doorbell Extender!
I've tried all sorts of wireless doorbells, Honeywell, etc and none worked well enough. The 1800 Doorbell Extender does the job perfectly. It's a large home and this unit easily has the range for full coverage. Easy to set up and there are many options. It's brilliant, I'm thrilled!
Works as advertised
Could not hear my doorbell in any of my rooms except my main room. This solved the problem. Sound a little "tinny" which is why I gave it 4 stars but I have not tried to other tones other than the default. Certainly loud enough. 1800 Doorbell customer service excellent.